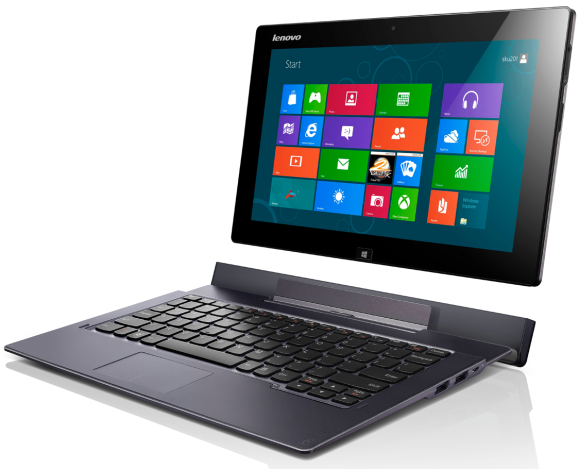 PCWorld - Lenovo on Tuesday announced a new range of Windows 8 and RT hybrid computing devices that can function as tablets or laptops.
The devices include the IdeaPad Yoga 11, which is the company's first hybrid laptop/tablet with an ARM processor and Windows RT. The device has an 11.6-inch screen and a touchscreen that flips to become a tablet. The device weighs 1.27 kilograms, offers 13 hours of battery life and will become available in December starting at US$799.
The Yoga 11 is aimed at highly mobile users, said Peter Hortensius, senior vice president of the product group at Lenovo, in an interview. The Windows RT OS will not run existing Windows applications, so products with the OS may attract a new generation of laptop and tablet users, Hortensius said. The devices may take off just like tablets, which also attracted a new user base.
The Yoga 11 is a smaller version of the IdeaPad Yoga 13, which was shown at the Consumer Electronics Show and was one of the first tablet/PC hybrids shown. The Yoga 13 has a 13.3-inch screen and weighs 1.5 kilograms (3.3 pounds). It will come with Windows 8 and has Intel's Core processors based on the Ivy Bridge microarchitecture. The Yoga 13 offers a battery life of eight hours and will become available for $1,099 on Oct. 26.
More