PCWorld - Hotmail users and newbies are flocking in droves to
Outlook.com
, Microsoft's latest
Webmail overhaul
that will eventually replace Hotmail. Less than 24 hours after Microsoft rolled out Outlook.com, one million people were already using the service, according to an official
tweet from Microsoft
. The new Outlook continues Microsoft's overhaul of all its Web properties to the new touch-centric Metro feel -- the same look that's coming to the
Windows 8
Start Screen and is already on Windows Phone.
[RELATED: Analysts: At First Pass, Outlook.com Looks Underwhelming]
Launched in 1996, and bought by Microsoft in 1997, Hotmail was one of the earliest free Webmail services and became the first e-mail address for millions of people, perhaps rivaled only by AOL Mail. But what was once new and exciting in the late 1990s became stagnant and less innovative by the early 2000s. Around 2004, Google's Gmail was the hot new e-mail service, while Hotmail appeared dated. That lack of trendiness, however, did not cause Hotmail to bleed users. In fact, it was only recently that Gmail finally surpassed Hotmail, reaching
425 million active users in June
, while Hotmail's last reported user base hovered around 360 million.
Microsoft's Outlook.com overhaul comes just in time to help Hotmail/Outlook try to regain its position as the world's top Webmail service. It's not clear when Hotmail will be completely absorbed into the new Outlook.com, so longtime Hotmail users resistant to change can stick with the older Webmail service for now.
But if you're interested in getting started with Outlook.com today, here's what you need to know whether you're a Hotmail veteran or new to Microsoft Webmail.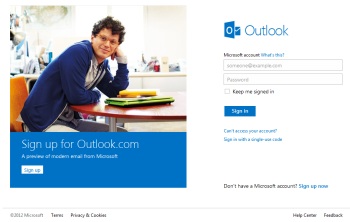 If you already have a Hotmail address or Microsoft account, just sign in to Outlook.com using your current credentials and you will automatically switch over to the new look. New users can also sign up for an account at the Outlook.com start page.
More