PCWorld.Com - Design simplicity is the key for
Windows 8
, and Microsoft recently discussed on its blog yet another popular Windows feature getting streamlined in Windows 8: the
task manager
. The new task manager echoes the design simplicity Microsoft was showing off earlier with the
new copy file dialog
.
Microsoft says three goals guided development of the new task manager, which is intended to appeal to non-techies and power users alike. The company says it wants to create a task manager that is optimized for common tasks (killing apps and processes), using a modern and functional interface, but without cutting out the favorite functions of power users.
For most users, the result is that Windows 8 won't inundate you with a long list of unfriendly-looking processes like the task managers in Vista and Windows 7. Instead, the new OS shows a simplified list of programs that you can expand if you need to go beyond simply killing an app.
A Simpler Task Manager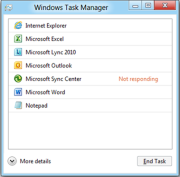 After studying user habits in Windows 7, Microsoft found that 85 percent of all task manager usage centers around the Applications and Processes tabs. This discovery isn't that surprising since most people use the task manager to simply kill off an application or process that isn't responding.
Force Quit Dialog in OS X 10.5,
Leopard. Source: Macworld
So instead of seeing a long list of information you don't need, all you'll see when you open the Windows 8 task manager for the first time is a simple list of apps. You'll see no tabs, no menu bar, no statistics — just apps. If a program is having a problem, a "Not Responding" note will appear next to the application name. This approach is similar to Apple's interface for killing applications in OS X.
Microsoft has simplified the basic task manager so much that you won't get a double prompt asking you if you're certain you want to kill a process. If you select the "End Task" button in Windows 8, the operating system will kill the process and the program will be told to shut down. Microsoft warns you to be careful with the new task manager, because Windows 8 won't prompt you to save your work before shutting something down.
More