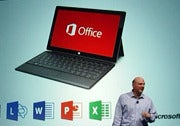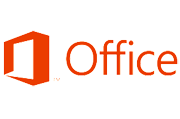 PCWorld - Office 2013 is touchscreen ready, cloud friendly, and adds bold new twists to the Microsoft Office franchise. On
Monday Microsoft CEO Steve Ballmer
outlined what he said was the "biggest most ambitious Office" update to date.
For the desktop Office 2013 delivers a host of smart updates to Word, Outlook, and Excel. But where Office 2013 shines is embracing the mobile world and the cloud with deep integration with Microsoft's cloud service SkyDrive and collaboration - integrating its recent acquisitions
Skype
and
Yammer
. Windows 8, and the upcoming release of Microsoft Surface tablets and Windows Phone 8 smartphones, also play a huge roles in coloring Office 2013 with new features.
Ahead of Microsoft's big news Monday Microsoft provided PCWorld with two Windows 8 tablets (no, not the Surface) and access to the customer preview versions of both Office 2013 and the cloud-based Office 365.
Here is a look at how the software suite runs on laptop, desktop touchscreen, and tablet platforms.
In this story, PCWorld Senior Editor Michael Brown first gives his impressions of working with Office 2013 and 365 on a laptop and a desktop PC. Contributing editor Tony Bradley then writes about his tests of the new products on a tablet PC.
Office 2013, Office 365 on a Laptop and a Desktop PC
--------
I spent most of my time with Word and Excel on a laptop and on a desktop all-in-one equipped with a touchscreen. As expected, Microsoft is tying Office 2013 and Office 365 tightly to its SkyDrive cloud-storage service.
You're free to use other services, but I suspect that this integration will lure plenty of Office users away from their paid accounts on Google, Dropbox, and SugarSync. If you buy a version of Microsoft's new software and sign up for a Microsoft Live account, you'll get 20GB of free storage in SkyDrive.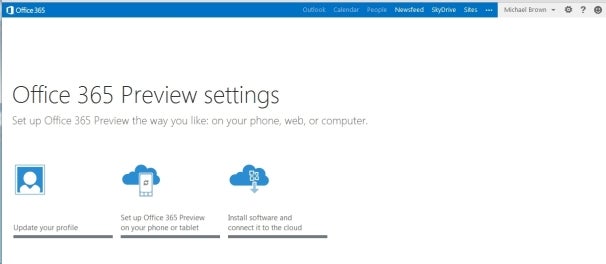 The Ofiice 365 Preview settings screen.
Both Office 2013 and Office 365 offer largely the same user experience, but Microsoft is clearly steering its customers toward the
cloud-based version
. The company is also marketing Office 365 to consumers for the first time, rather than strictly to businesses.
More